"Still Home Hoopin' After All These Years"
BELDING – The Gus Macker 3-on-3 Basketball Tournament in Belding Saturday and Sunday will play host to 457 teams.
That is an increase of 39 teams over 2015, which was the largest turnout for the "home" tournament in 17 years.
Scott McNeal, a.k.a. Gus Macker and owner of the national touring tournament company, is elated with the increase in participation, the familiar faces that annually show in Belding, and also the efforts of 14 local non-profit charity groups involved.
"Those groups will net between $8,000 and $10,000 by being involved, and they are groups mainly focused on youth in the community," McNeal said. "All of our Mackers are community events, but in Belding we have more community groups than anywhere else, and such a diverse group of local organizations that make the tournament happen. It's truly a family festival."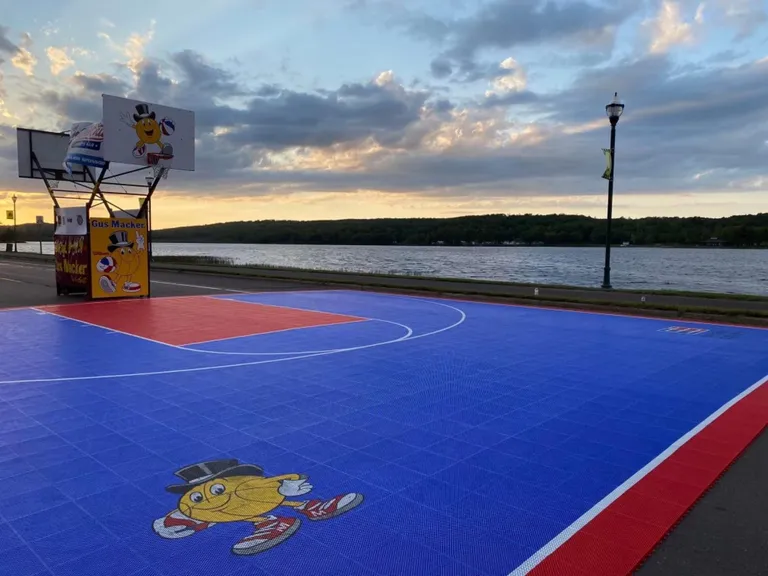 This weekend's event marks the 30th anniversary for a tournament in Belding. The first was held in 1987 after a move from Lowell where McNeal, his brother Mitch and 16 friends started a driveway 3-on-3 event 43 years ago.
While the Olympic Games in Rio will have opening ceremonies tonight, tomorrow at 8 a.m. (Saturday) Macker will have its media-ready Olympic-themed opening ceremonies complete with the usual Macker traditions and more.
Then the action will go to the 32 courts, including 22 youth courts for those under age 18, in the downtown area.
"The increase in youth courts shows the changing face of Gus Macker Basketball," McNeal said. "Some people might remember a rough and tumble basketball in Belding, but in this era we have registered officials on all the courts and we have a youth movement. We have the third generation of Macker players here, and we remain focused on wholesome family entertainment."
The MC Sports Dream Court will feature the youngest Macker players in a feature court with a game announcer, including Gus Macker himself at times.
The Stahlin Slam Dunk Contest, always one of the most popular parts of a Macker, is set for Saturday evening with a $500 cash prize. As the Macker mantra goes: "Don't bring no weak stuff."
There's something for everybody at a Macker, and the Belding event has dedicated sponsors in Leppinks, Stahlin, the U.S. Army, MC Sports, Life EMS and the City of Belding. National sponsors involved are Wilson Sports, SportCourt and Champion Sports. "We have all ages playing, a lot of kids, great sponsors and our sponsors realize the economic impact that results from 457 teams, over 1,800 players and their families visiting Belding," Mike Fuller, vice-president of operations, said. "The Belding tournament, and all of our Michigan tournaments are up in numbers. We just keep growing and going."
The Belding tournament is one of 42 tournaments on the Gus Macker All-World Tour for 2016, and is one of 12 tournaments presented in Michigan. Tournaments are held throughout the country in places like Fairview, Texas, Las Cruces, N.M., Naples, Fla., and Rapid City, S.D. The Gus Macker phenomenon exploded 30 years ago, and Belding once hosted almost 5,000 teams and 20,000 players with thousands of spectators. Macker headquarters are located on Main Street in Belding.
Contact: Macker Basketball LLC, 107 E. Main Street - Suite 3, Belding, MI   48809, (616) 794-1445, www.macker.com, follow us on Facebook and Twitter